Do you enjoy a group workout atmosphere? Love connecting with a community to help keep you accountable, motivated, and inject some serious fun into your workouts? Our group fitness classes are the perfect addition to your fitness routine!
As a member of Ascend Fitness & Spa, you can bring in any guest for FREE on their 1st visit. (Additional visits will be at cost)
Single Day Pass- $10
4 Day Pass- $30
7 Day Pass- $42
All guest passes expire 30 days after purchase.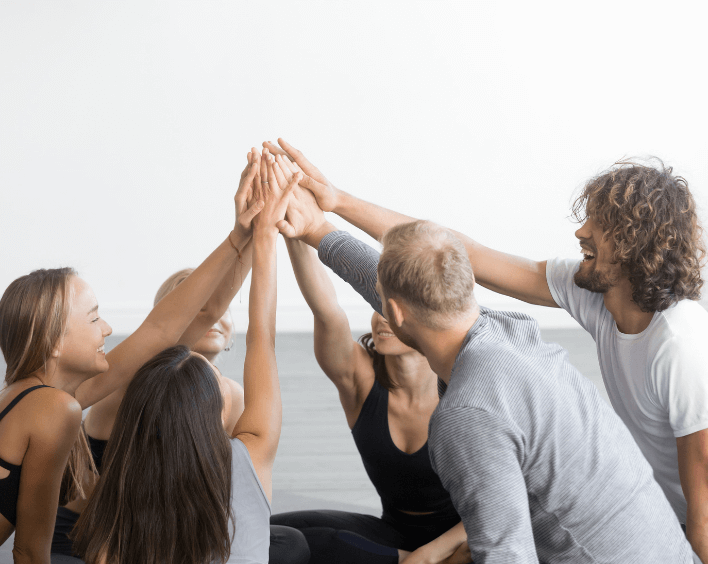 "The new spa is fantastic! What a retreat in downtown Cleveland!"
"I really like seeing everyone in the morning and all the special activities that you've brought — "Kickin' It With Kenny," the holiday pub crawl, the heart chain link challenge — it makes the workout so much more fun and interesting. Plus, everyone is so friendly and helpful. It's a good start to the day. Thanks for all you do!"
"Wonderful experience! Best massage I have ever received, they worked out so much tension I didn't even know I had hiding in my neck. Harriet did a fantastic job on my nails as well, I'll certainly be back!"
"Being able to work out with my co-worker before we go to work at Key Tower is so convenient, and the showers/locker rooms are always clean! they really help me start my day on a good note. I also love being able to do abs and stretch in the group exercise room!"
"Quarma is a wonderful hair stylist; she is bringing my hair back to life! Curly hair is challenging, but she nailed it! Can't recommend the spa more - infrared sauna, terrific massage therapists, steam room, it's all here!"
"Ascend has so much to offer! From the friendly staff to the wide array of exercise equipment, I can enjoy a productive workout in a comfortable and clean environment."
"This is my first time using a personal trainer, but with the promo pricing I thought I'd give it a try. First off, Erin is extremely professional, knowledgeable, and personable. She builds each training session to meet your fitness goals. If you haven't tried a PT, I definitely recommend signing up with Erin because she will push you to help get results. Highly recommended!"
"Ascend has been a lifesaver throughout these difficult times during the pandemic helping to keep my normal workout fitness routine. While working in the office every day, I am thankful to have access to a facility that promotes social distancing, clean equipment, and safety protocols. Having Ascend inside the office building is a special treat because of the easy access and convenience of working out on my lunch hour. There's nothing better than taking a break from the desk to go get moving and be energized for the rest of the day."