Gain access to our always growing library of video classes. Drop in online anytime for an official Ascend workout!
Experience Ascend from wherever you are! Whether you are homebound due to Covid-19 concerns, or just on vacation, Ascend@Home features our awesome instructors, with the flexibility of accessing classes from anywhere at any time!
Our Ascend@Home video library requires a membership to view. If you aren't currently a member, you can join here.
No Equipment Required, Perfect for All Levels
Our easy to access video library offers classes perfect for all levels and our software is compatible with a variety of devices including your phone, computer or tablet.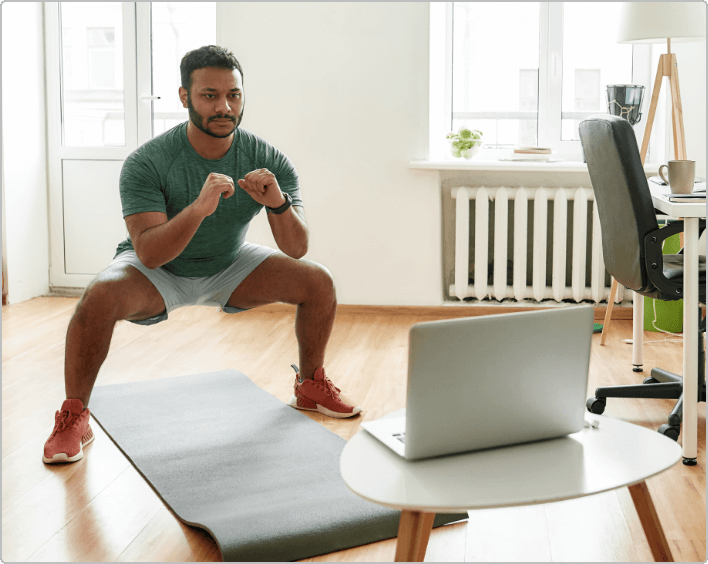 Check out our current list of virtual classes available through Ascend@Home! We're always adding more, so now is the perfect time to begin your new fitness routine at home or on-the-go!
Get ready to sculpt and tone! This powerful class will give you the results you're looking for without over-stressing your joints!
Grab some light weights (if you have them) and get ready to feel the burn with this full body workout.
Lower body and core barre on the floor with gliders.
Lower body floor barre with band.
Gliders upper body and 2nd position.
Barre upper body band and lunges.
Quick, 15-minute ab workout!
Work your body head to toe and get your blood pumping with this quick workout.
Work the core, arms and legs while getting that heart pumping.
Full Body HIIT & Strength
This workout is full body and works to strengthen those muscles while also getting some cardio in.
Work the core, legs and arms in this full body strength workout.
Hit the legs with this lower body strength workout that has some added cardio in the end.
Quick, 19-minute burn! Enjoy these high intensity intervals to pump up your day!
Wake up and recharge with this soulful flow.
Upper Body Strength w/ Band
Get those arms pumping with this upper body workout. Having a resistance band is needed for this workout.
A short flow to get your body moving and stretch out those muscles.
Get your mind and body ready for the day with this yoga flow.
"Perfectly situated, exceptional team members and welcoming atmosphere, Mary was excellent from check in to check out. She was always available if we needed any recommendations and greeted us warmly throughout our stay. Kim was both professional and friendly during our breakfast at the restaurant. It was always a great start to the day. Thank you to Drew, Grace, Halston and Dre for making our spa sessions memorable and another incentive for coming back yo Cleveland. "
"Beautiful hotel - this is the place to stay in downtown Cleveland! Wow! First time to Cleveland and I love this hotel and area! We have a beautiful room #2518 it's got an amazing view & super comfortable sheets / beds & pillows. Clean and spacious room, awesome bar and lounge area downstairs. Beautiful spa with very professional and skilled massage therapists. Steam room and quiet tea relaxation room. Will definitely be back to stay here again! Friendly and welcoming staff too! When my flight was delayed due to weather they even gave us a 4:00 check out - so helpful! Thank you so much for a wonderful experience!"
"The new spa is fantastic! What a retreat in downtown Cleveland!"
"I really like seeing everyone in the morning and all the special activities that you've brought — "Kickin' It With Kenny," the holiday pub crawl, the heart chain link challenge — it makes the workout so much more fun and interesting. Plus, everyone is so friendly and helpful. It's a good start to the day. Thanks for all you do!"
"Wonderful experience! Best massage I have ever received, they worked out so much tension I didn't even know I had hiding in my neck. Harriet did a fantastic job on my nails as well, I'll certainly be back!"
"Being able to work out with my co-worker before we go to work at Key Tower is so convenient, and the showers/locker rooms are always clean! they really help me start my day on a good note. I also love being able to do abs and stretch in the group exercise room!"
"Quarma is a wonderful hair stylist; she is bringing my hair back to life! Curly hair is challenging, but she nailed it! Can't recommend the spa more - infrared sauna, terrific massage therapists, steam room, it's all here!"
"Ascend has so much to offer! From the friendly staff to the wide array of exercise equipment, I can enjoy a productive workout in a comfortable and clean environment."
"This is my first time using a personal trainer, but with the promo pricing I thought I'd give it a try. First off, Erin is extremely professional, knowledgeable, and personable. She builds each training session to meet your fitness goals. If you haven't tried a PT, I definitely recommend signing up with Erin because she will push you to help get results. Highly recommended!"
"Ascend has been a lifesaver throughout these difficult times during the pandemic helping to keep my normal workout fitness routine. While working in the office every day, I am thankful to have access to a facility that promotes social distancing, clean equipment, and safety protocols. Having Ascend inside the office building is a special treat because of the easy access and convenience of working out on my lunch hour. There's nothing better than taking a break from the desk to go get moving and be energized for the rest of the day."